Viscometers and accessories
Viscometer DV2T
Programmable viscometer using Program Generator Software for multi step measurements.
Measuring geometry: disk, cylindrical or special spindles, adapters with coaxial cylinders,

Internal data storage,

Time tests and data averaging,

USB interface for optional PC control via RheocalcT software,

Customizable user access, secure 21 CFR features,

Compatible with all Brookfield accessories.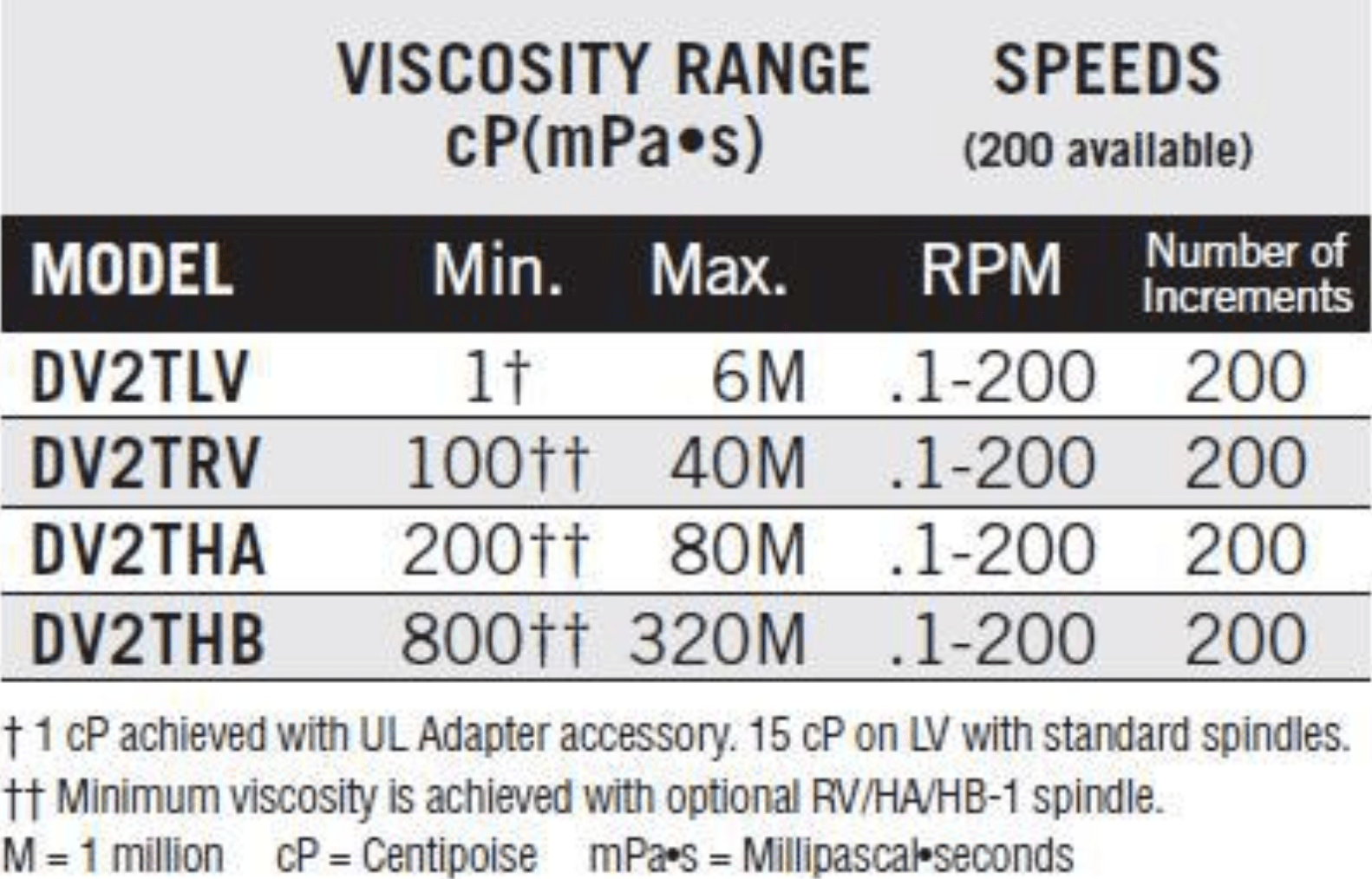 Viscometer DVPlus
Viscometer with 5" touch display,
Measuring geometry: disc, cylindrical or special spindles, adapters with coaxial cylindres,
USB and Bluetooth interface with application DVPlus Connect for data recording and printing on PC,
Ability of setting of time of measurement,
Optional temperature probe,
Optional magnetic connection of spindfles,
Compatible with all Brookfield accessories.

Viscometer CAP 2000+
Cone-plate viscometer to measure small sample volume at variable speed; ISO 2884, ASTM D4287, BS 3900 compatible
Appropriate for moderate to high shear tests up to 10,000 1/s,

Choice of torque range: High torque (ICI specification) or low torque,

Choice temperature control: L = 5-75 °C or H = 50-235°C,

Variable speed 5-1,000 RPM,

Optional Capcalc software to control viscometer.
Process in-line viscometers
In-line viscometer FAST
Measures damping effect of torsionally oscillating probe, no moving parts, no maintanance.
Used mainly in printing, coating and adhesive operations,

Viscosity range: 1-3,000 (optional 12,000) cSt,

FAST-101 for application in pipes, by-pass, flange mount or as a probe inserted in the tank from above,

FAST-102 is compliant to 3A sanitary standards,

FAST-101 with transmitter MXTS enables connection toautomated control systems (PC, PLC, DCS, etc.).
Single or multiple station viscosity controllers AST-330SY or AST-420SY for measuring and displaying viscosity, temperatureplotu and pH.
Sensor configuration: NEME4, NEMA7, ATEX, sanitary or ink system.
Viscometer/rheometer accessories and special items
Optional special measuring spindles available as AISI 316 stainless steel or teflon coated or made from molybdenum,
Robust ball bearing suspension for viscometer torque models RV,HA orHB,
Magnetic spindle coupling for viscometers DV1M, DV2T and rheometr DVNext,
Quick action lab stand,
Thermosel system for elevated temperature testing from 40 up to 300 °C,
UL adapter and UL-DIN adapter for measurement of low viscosity materials, range from 1 mPa.s,
Small sample adpater for rheological evaluation where sample volume is limited,
Helipath stand for measurement of non-flowing substances like gels, pastes, putty, creams, gelatin, etc.,
Spiral adapter for measuring heavy paste-like materials such as solder paste, cosmetics, pharmaceuticals or food,
Vane spindles for measurement paste-like materials, gels, fluids with suspended particles,
Temperature bath systems with selection of simple or programmable controllers with temprature range from -20 °C up to +200 °C,
Printer Dymo 450 Turbo Writer for viscometers DV1M and DV2T and rheometer DVNext,
Viscosity standards - silicone or mineral oils for calibration of viscometers and rheometers (5-100 000 mPa.s),
Are you interested in the device or do you want advice on selection?